yong ginawa namin 2 weeks ago ganon din ginawa namin ni yen nong thursday, she picked me up around 5pm this time we ate our dinner first at central cafe (pinoy carenderia). after dinner, we headed straight to Hyatt plaza ( this time ibang mall pinuntahan namin ) shopping na naman!, since yong sale na 40% sa roots di pa tapos and guess what? 50% off na! whoah! bibili na naman ba ako?..hai, pambihira...syempre inuna ko muna yong gift for aissa (her despedida) and jam ( for her bday this coming thurs.) i bought sweat shirt for aissa and bag for jam ( cheap in kami ng mga ka officemates ko sa mga yan noh, kala nyo naman ganon na ako kayaman...hehehe...) hihirit din sana ako ng isa pang bag for myself buti na lang napigilan ko, so instead i bought flipflops fr. banana rep. o, diba cutey?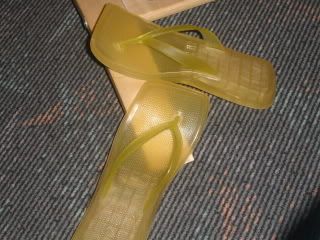 after roots , we checked karisma ( a make-up shop), syempre sale kaya bought 2 eyeshadows, lipstick & blush on. and then bago umuwi (kasi kelangan pa ni yen mag beauty rest, bago mag starbucks later) pinuntahan muna namin ang dzarm shop na 70% off ! kaya buy ulet kami, i bought 1 venus shirt , sweat shirt and a boxers short.

9pm nagkita ulet kami ni yen w/ em and joi this time sa starbucks, sinuot ko na yong venus shirt ,wala ng laba2 ..hehehe...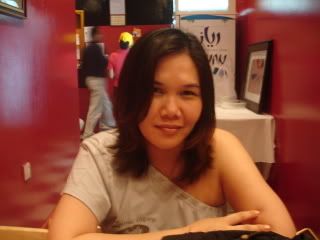 (dinner w/ joi at central cafe)
the usual routine pag nasa starbucks kami... tsismisan, tsismisan at tsismisan. umuwi kami past 12midnight pero bago umuwi humirit muna ng posing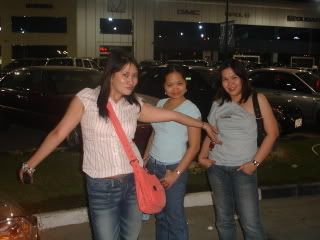 friday: 5pm pa lang nasa city centre mall na kami ni joi para bumili ng lcd pc monitor sa office nya, kaya lang wala na...ubos na...instead bought shawl for my black dress para sa party namin next week. grab a bite sa burger king and pumunta na kami sa hyatt plaza, hindi pa tapos ang shopping ko dahil bought 3 blouses & 1 sweatshirt sa dzarm & 2 eye shadow/liner pencil sa karisma ( hindi naman ako nag panic buying) after that bumili na si joi ng monitor...and then chilled at starbucks.
what a weekend...same spots, same itinerary, same habit!